Winner of 7 World Motorcycle Speed Records at the Legendary Bonneville Salt Flats !!!

World Motorcycle Speed Records an Extreme Dream? Not for Markertek !!!

Since the beginning, Markertek has always been about breaking the rules and exuding more creative energy and speed than anyone else in the broadcasting industry.

Markertek is one of the main sponsors of Kolb Machine along with others of an experimental motorcycle racing team that holds 6 world speed records at the legendary Bonneville Salt Flats in Wendover, Utah.

Under the leadership of team captains Scott Kolb & Chris Bernard, the project was born out of inspiration for our collective motorcycle experience, creative engineering and a touch of inspiration from Burt Munro who was a New Zealand motorcycle racer, famous for setting an under-1000cc world record, 183.586mph, at Bonneville, 26 August 1967. He was portayed in the movie The World's Fastest Indian by Anthony Hopkins. Scott Kolb & Chris Bernard, custom builds and modifies their own motorcycles in a specialized machine shop located nearby the Markertek campus in the mountains of upstate New York.

This motorcycle racing program isn't some 'fat cat' sponsorship deal --it's ground up custom built extreme high power custom machine fabrication. With lathes spinning, sparks flying, and espresso (yes real espresso) brewing you never know what the brainiacs at Kolb Machine are capable of!

See you 'On The Salt' Dude !!!


Current AMA World Land Speed Records at Bonneville Salt Flats

Rider
Class
Speed
Year
Scott Kolb
125cc APS-AF
146.72
2010

Scott Kolb

(Our 2006 record is bumped up from 119.384)

125cc A-AG
125.750
2008
Scott Kolb
125cc A-AF
124.828
2008
Greg Meola
125cc M-AG
115.383
2008
Greg Meola
125cc M-AF
117.221
2008
Django Zaloom
125cc MPS-AF
128.955
2008
Django Zaloom
125cc MPS-AG
126.305
2007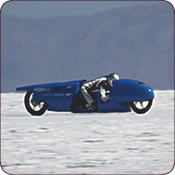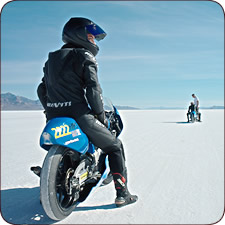 2008: Two Bikes, Three riders, Five AMA land speed records. An epic team effort.
We Celebrated Our 2008 winning streak with a great party serving ice cold margaritas with genuine salt from the Bonneville Salt Flats on the rim of each glass! Some Markertek customers were on the flats as well:
Speedvision, Discovery Channel
(Biker Build-Off) and uplink buddy
Dave Garbutt
from
Wild Hare Satellite
.
www.wildharesat.com
We displayed our world speed record holder motorcycles at AES this past year and we certainly turned more than a few heads.
September 2008 Pictures - Bonneville Salt Flats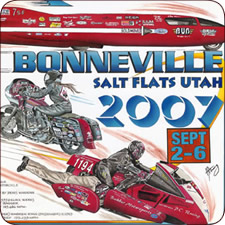 2007: Our stock Honda RS125
customer grand prix motorcycle gets lowered to include a thorough massage of the bodywork and runs an impressive 125.305 MPH on 35 horsepower breaking a 29 year old AMA land speed record. We picked up another record in the 250cc Production Class as well.
September 2007 Pictures - Bonneville Salt Flats
- 2 World Land Speed Records Set by Markertek!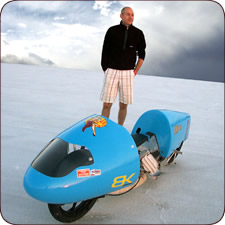 2006: Flying by the seat of our pants
we build a bike from scratch to contest the 125cc Land Speed racing class. Our first visit to the salt and we leave with a new 125cc A-AG class record of 119.384. This was a real nail biter setting the record on the last run allowed during the annual week-long event.
September 2006 Pictures - Bonneville Salt Flats
---
---
Markertek is Proud to Sponsor Jake Quick
AMA Flat Track Pro, Jake Quick is one of the youngest riders sponsored by Markertek. At just 17 years old, Jake is also one of the youngest riders competing in the 2012 AMA Pro series. Jake lives in West Shokan, NY and has been riding since the age of four. When he got his first bike, he knew right away that he wanted to compete. In 2007, Jake picked up a new Honda 250cc 4-stroke a week before the Winter Nationals. Without even having a chance to ride it, he placed 7th in Round 5 at Volusia Speedway Park. In 2011, Jake took an impressive 4th place at Daytona Speedway. Jake works at Markertek on school holidays and when he is not racing. Markertek is proud to be one of several sponsors for such a determined rider and will be watching Jake's racing career very closely!
---
---
Check out the The Big Bike Trip Sponsored by Markertek!




Initial planning started with an estimation of 2-3 years and approximately 40,000 miles. Having now completed the North American leg of the trip, Rob & Rik have notched up 38,000 miles over 18 months. Clearly, there will be more mileage to cover as they head towards Central and South America, and then back home through Asia and Europe. Realistically, this will probably take another 40,000 miles and between 3-4 years in total. We wish Rob and Rik the best of luck with their worldwide adventure!
---
---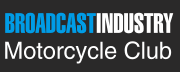 Get This Free Sticker For Your Helmet!
What is it? Right now it's just a cool sticker for your helmet and maybe a couple of beers (or martinis) one night out at NAB. It's no secret that a lot of folks in our industry are riders/bike enthusiasts --editors, techs, actors, special effects, etc. --so Mark (the owner/founder of Markertek) thought it would be fun to start a little motorcycle club for all of his friends in the industry.

If you would like a free sticker for your helmet, send us an e-mail request. Include your name, e-mail, the bike you ride, where you work and obviously where the sticker should be mailed to. If you have a cool picture of your bike --send that along as well and maybe we will post it.
Gallery of Club Members Who Sent in Their Pictures
Right now, it's just a sticker --but you never know where all this will go!